¡@

Who is the "Showstopper"?

Who is the "Main Event"?

Who is the "Iron"?

The Heartbreak Kid Shawn Michaels!!!!!!

¡@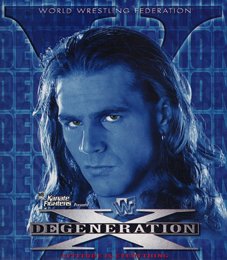 Shawn is the former DX leader, he formed Degeneration X
with Hunter Hearst Helmsley, Chyna and Rick Rude.
They didn't respect anyone, and like getting someone to joke.
They always said two words "Suck It" to everybody.
They destroyed the Hart Foundation. Shawn won the
World Title from Bret, and made him out of WWF,
After that Rick Rude was also out of DX.
But Shawn was still the leader of the strongest team, DX
and held World Title & European Title at the same time.
At that time, Slaughter forced Shawn & HHH to fight for
European Title! However, Shawn abdicated his European Title
to his best friend, HHH in the match, but still keeping the
WWF Heavyweight Title Belt for himself.
Before Wrestle Mania 14, he had invited The Baddest Man of
the Planet Iron Mike Tyson to join DX. (Special Enforcer)
But Shawn had never imagined that Mike Tyson
would make him lose so much!!!
At Wrestle Mania 14, Shawn faced Stone Cold for WWF
World Title. The Special Enforcer as well as the member of DX,
Mike Tyson, betrayed him!He gave him 3 counts fastly,
and even gave him a Power Punch on his face!!!
Starting from that time, Shawn lost his World Title
belt and was out of the DX! He lost everything!!!
After Shawn had left, Triple H became the new leader of DX.
He formed the new DX with Chyna, X-Pac,
and The New Age Out Laws.
And now, nobody will know whether Shawn will join
DX once again or not. Let's Shawn decides
what's best for himself.
I believe" the fans will always respect his wish"!!!
¡@